Residential Roofers in Palmetto Bay
Miami Home Roofing Services
Sean Lilly Roofing Co. is a full-service roofing company offering high-quality services to homeowners throughout Palmetto Bay and Miami. Our local team is driven to provide solutions that are effective, long-lasting, and beautiful. We only work with the most trusted manufacturers on the market and our skilled professionals will go above and beyond to ensure your complete satisfaction—backing up all of our services with industry-leading warranties on our labor and materials.
Our services include:
No matter what type of service you need, you can count on our licensed and experienced contractors to deliver results that exceed your expectations. Our foremen document every phase of your project to evaluate the quality and progress of the work, keeping you informed from start to finish. Unlike other companies, we have our own carpenters on staff, who are ready to be dispatched if you need any advanced wood working.
Servicing Every Type of Residential Roofing System
At Sean Lilly Roofing Co., quality is the name of the game. Quality in workmanship, quality in materials, and quality in communication. With over 60 years of experience, we offer a range of services unmatched in our area, so you can trust that we have the expertise and resources needed to get the job done right on schedule and on budget the first time, every time.
Shingle: Asphalt shingles come in a variety of styles and colors and often last over 25 years. This solution is popular with homeowners because it is a beautiful and cost-effective option. Our team only uses the highest quality shingles available, offering custom heavy weight dimensional, mid weight low slope dimensional, and standard 3-tab options.
Tile: Not only are tiles an attractive roofing option, but also an incredibly durable one. Thanks to advancements in roofing, tiles come in a wide array of styles, shapes, sizes, and colors, so you are sure to find the perfect match for your home's aesthetic.
Metal: Metal roofs are quickly becoming a popular choice for homeowners as they are eco-friendly and can last a lifetime. We offer a variety of choices, including 5V-crimp, standing seam, copper, and galvalume solutions.
Whether you want a shingle, tile, or metal roof, Sean Lilly Roofing Co. will deliver the high-quality solutions you deserve. From tile roof replacement and waterproofing to emergency repairs and skylight installation, you can count on our team to be your partner is effective, beautiful, and long-lasting roofing solutions.
To learn more about our services, call our team today at (305) 257-8866 or request an estimate here!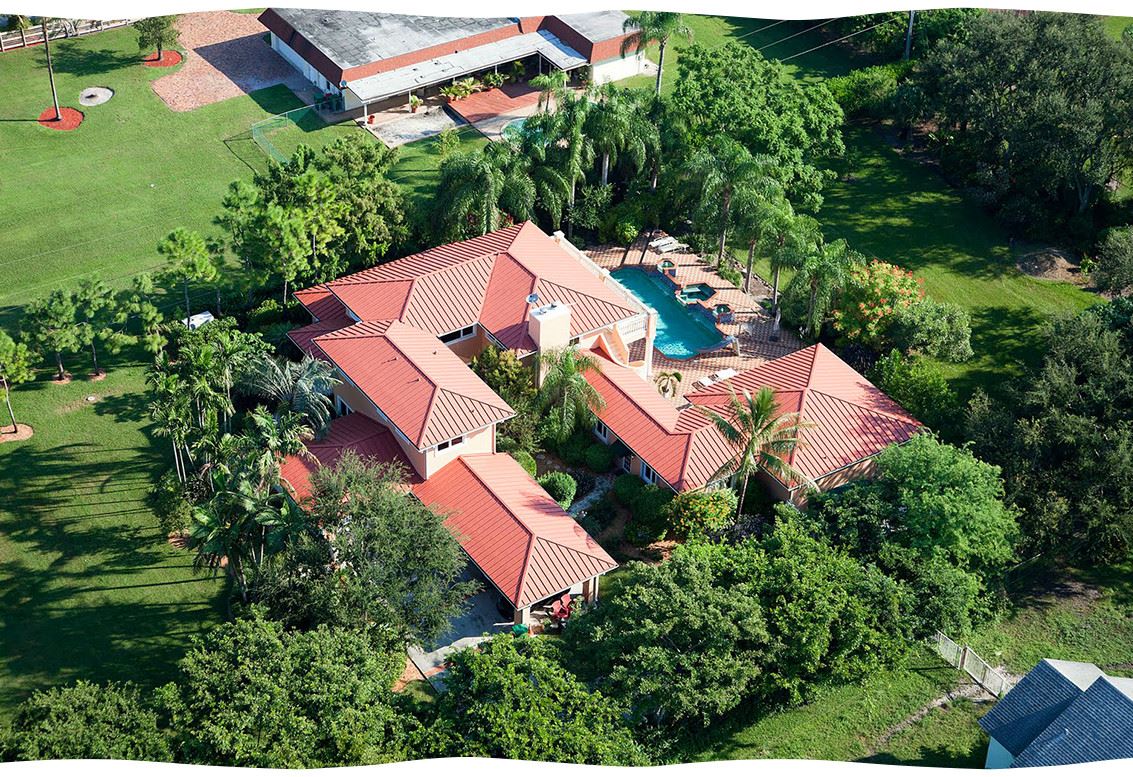 Roofing Photo Gallery We've gathered an impressive portfolio from our decades of roofing experience. Take a look at some of our favorite jobs!